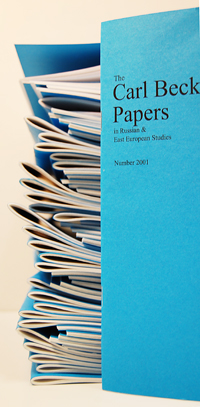 Established in 1981, The Carl Beck Papers publishes original research in the humanities and social sciences focusing on Eastern Europe and Eurasia. The Papers' monograph (40-90 pages) format offers a unique opportunity for scholars to publish works that are larger than the average academic journal article but shorter than a book manuscript. A rigorous double-blind review process ensures that the Papers maintain a high level of quality and continue to make an important contribution to the advancement of scholarly inquiry in our field.
In 2011, after over 30 years as a traditional print journal, the Carl Back Papers transitioned to a digital, open source format. The move to the new format offers new capabilities in terms of the structure and content of articles and provides near-seamless linkages to a vast array of web-based information. Furthermore, a new automated submission and review process provides a faster turn-around times and more effective communication between authors, reviewers and the editorial staff.
As of December 31, 2015, The Carl Beck Papers will no longer accept submissions for publication. We thank everyone who has supported the journal over its 34 year history.